Disney® Holiday Villages and Trains
Yes, Disney® has been licensing products since Mickey was black and white. But this page has featured some very original products, including the first-ever holiday villages based on Disney® characters and settings! Demand is already high - several of our readers bought these before we even knew they were available.

Note: Although your children may love these sets, the Disney® villages are not toys, but heirloom-quality collector's items - in other words, they're "toys for big people." I post this only because small fry find them irresistable, so you need to be careful to keep them out of reach of small children, or anyone likely to wander off with the figurines or accessories, as my kids were prone to do when they were little.

Most of the products on this page are available by subscription, which means that you sign up for them like you would a magazine and get a package about every four weeks for the next four months. For more information on subscription trains, please refer to the "About Subscription Trains" article. The accessory packages and the Lionel ® trains, however, are sold as single-purchase packages.

Every piece is exquisitely detailed and warranteed for one year against manufacturing defects by Hawthorne Village®. In addition, the mechanical parts of the train shown on this page are manufactured and warranteed by world-class model railroad companies like Bachmann® and Lionel®, so parts, service, and accessories will always be available.

Update, 2013 - Between 2009 and 2011, Bradford Exchanged cut back on ordering new products, due to the recession. That meant that when the economy started improving, they had nothing in the "pipeline." Between 2011 and 2012, I had to take nine Disney collections from this page. So right now things look a little thin. Hopefully new stuff will be arriving soon, and we'll keep this page active until it does. But this is a reminder that "limited edition" means that they've only made so many, and when they're gone, they're gone.

Note about Suppliers: While we try to help you get the products you want by recommending suppliers with a good record of customer service, all transactions between you and the supplier you chose to provide your trains are governed by the published policies on the supplier's web site. So please print off any order confirmation screens and save copies of invoices, etc., so you can contact the appropriate supplier should any problems occur. (They almost never do, but you want to be on the safe side.)

Note about Deadlines: These issues arrive about once a month, so the earlier you get started the more you will have to display this holiday season.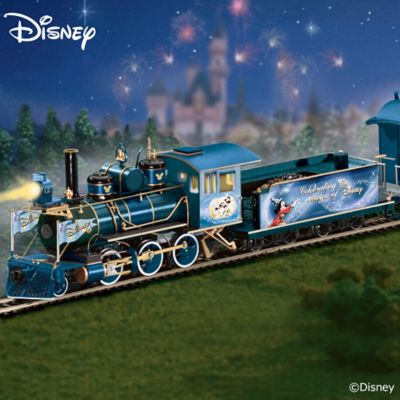 The Magic Of Disney Express Electric Train Collection
celebrates all of your favorite Disney® characters, including Mickey Mouse (as the Sorceror's Apprentice), Snow White and the Seven Dwarfs, and many more. Each issue in this collection has exquisite detail and charming features that will attract attention and interest for years to come. The locomotive headlight and the coaches are lighted as well, making this train a real "attention-grabber" when it runs around an illuminated holiday village such as the ones shown on this page.

Please click on either photograph for more pictures and details.

---
Note: If you buy a collectable train with the idea of running it around your Christmas tree, you might want to take special precautions so that someone who missteps near the tree doesn't accidentally kick an irreplaceable locomotive across the room. (Don't ask me if this warning is based on personal experience.) One possible solution might be to start a subscription of the Hawthorne Village train you like the most, and at the same time buy a Bachmann On30 train set that you can afford to leave on the floor or let the kids run. (And when the kids go to bed, and everyone else leaves the house, you can get out your Hawthorne Village train and run it--they run on the same track.)