Note: This page was begun as part of a "Buyer's Guide" listing products that we can recommend from companies with a good record of customer service. Bradford Exchange, who sells Hawthorne Village trains and towns in North America has one of the best records of customer service in the country. But sometimes people have trouble figuring out how a subscription train "works." That's why this page was put together.
Hawthorne Village(tm) features a collection of highly collectible, quality model trains that run on HO track so they fit almost anywhere. These trains use reliable mechanisms and other parts from the well-known Bachmann company, so they run like "champs," and service will always be available. But the Hawthorne Village designers add artwork and other detailing that make these trains much more attractive and collectable. That process, in turn, makes every subscription train into a "custom manufacturing job," which means you canít just buy them at the department store like you can mass-produced trains.
Note About Checking On Orders: If you ordered a Hawthorne Village product, please find a copy of your order or invoice and go to the Bradford Exchange Contact Page or call the Bradford Exchange customer service phone number: 1-866-907-3607. In Canada, call 1-866-285-0932. (This used to be called "Collectibles Today," in case you wondered.)
How Subscription Trains are Ordered
Hawthorne Village Subscription Trains are only made for a limited period of time. Basically, the company takes orders for a time, then starts a manufacturing run based on how many orders they have received when they start the run, plus a few more based on sales projections. Usually the production runs
last only a few months, and no new orders for the series are taken after all the locomotives have been run. That guarantees that the collectors' value remains high (since the run is limited) while guaranteeing that every person who ordered the series before the deadline gets a train.
This also means that when a series is closed, it is closed. Some series have remained "open" for many months, because interest was so high. However, the series do close after a period of time, and once they close, it is impossible to get those products directly from the manufacturer, although you can sometimes get them later from collectors who boost the prices.
How Subscription Trains are Shipped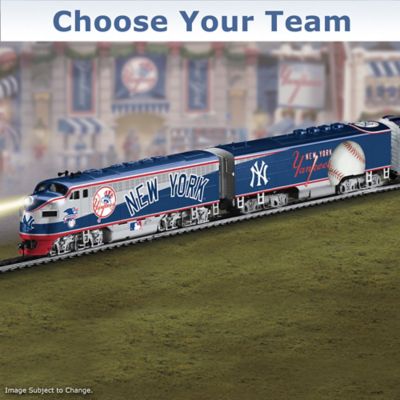 A subscription train (or village) is not a single purchase, but a standing order to purchase each piece in the series as it becomes available. (The price posted on the Hawthorne Village order pages is the price of each issue.)
When you order a subscription train, you are billed for the first installment, and it is shipped right away, if it's been manufactured already. For the Hawthorne Village steam engine sets, such as the Thomas Kinkade Christmas set, the first issue includes the locomotive and tender (coal car). This is an exceptional value, and a bit of a gamble on the part of Hawthorne Village, because the value of the locomotive is substantially more than what you pay for the first installment. But it's not that much of a gamble really, because Hawthorne Village knows that once collectors see the quality of the first installment, they'll want the hand-painted cars that go with it (and virtually everyone does.)
About a month later you will receive and be billed for the following installment: a car and some track. The following month, you will usually receive additional track and the power supply. At that point you have enough of the train to run. If any figures come with the set, they usually
come with the fourth installment, which also usually includes more track. At that point, you have, not only a whole "train set," but also a limited edition collectors' item.
The installments usually come every 3 or 4 weeks, unless you happen to subscribe while the series is still being manufactured, in which case the wait for the later installments may be longer.
Some sets are so popular that the Hawthorne Village people keep making cars as long as demand stays high. Usually every car comes with additional track, and some come with additional figures. Occasionally you'll receive track plan information to give you ideas for using all the track you've accumulated.
As examples of high demand trains, at last count, the Winnie the Pooh train had eight cars the last time I checked - on the other hand, they have stopped taking new orders - sorry. :-(. The original Thomas Kinkade Christmas train had 12. But you can stop your subscription at any time, so if you think four cars is enough, contact Bradford Exchange after the fourth car to stop your subscription.
This means that if you want to get a train to run at Christmas, you should subscribe way before Christmas to make certain you have enough of the train to run. Of course you can also order a Bachmann On30 set to let the kids run while you're waiting for the rest of the subscription train to arrive--they run on the same track, so you could run your locomotive as soon as it gets to you.
Why to Order Early
In short:
The trains come in installments, and you probably want to have as much train as possible for the holidays or any other special occasions, such as birthdays or holidays.
The trains are not available indefinitely.
Every October I start hearing from frantic people wanting to get a whole subscription train right now or asking for help tracking down trains they had put off ordering until the series was closed. (I received many such phone calls and e-mails last year as well.) Though I've tried hard to help everyone who has contacted me with "special circumstances," the truth is, I can't get these trains shipped from the manufacturer any faster than you can, and only a tiny percentage of these trains ever become available on the resale market at less than "scalping" prices.
In other words, if you're pretty sure you'd like one of these, you should order now to avoid disappointment. (All trains come with a return privileges and a warranty.) Though I frequently hear from people who are disappointed that they missed out on a set they waited too long to order, I haven't heard from one person who was disappointed with his or her train. On the contrary, I've heard from many people who were delighted with them.
Please contact me if you have any questions that aren't answered on these pages.
Return to the Big Christmas Trains buyers' guide.
Return to the Collectible Trains and Villages" page
Paying for a Collection in Installments
For most products, Bradford Exchange allows you to pay in installments (usually 3). If you elect to pay for a collection by installments, you should remember that EACH issue is worth three installment payments. To make the math easy, let's pretend that a particular series costs $90 for each issue (including shipping and handling). Paying by installments would work out something like this:
The first month you pay $30, which pays for the first payment on the first issue (if you're buy a train, that's the locomotive, which is worth much more that $90, in case you wondered).

The second month you pay $60, which pays for:

The second payment for the first issue, and
The first payment for the second issue

The third month, you pay $90, which pays for

The third and last payment for the first issue,
The second payment for the second issue, and
The first payment of the third issue.

Let's just say that you discontinue after the fourth month. During the fourth month, you would also pay $90, which pays for:

The third and last payment for the second issue,
The second payment on the third issue, and
The first payment on the fourth issue.

The fifth month you would pay $60, which pays for:

The third and last payment on the third issue, and
The second payment on the fourth issue

The sixth month, you would pay $30, which pays for the third and final payment for the fourth issue.
Confusing? Sorry. But I spelled this out because occasionally I get questions from someone who's agreed to purchase on the "installment" plan, but thinks that since he's sent in three payments, he has payed for three pieces - when in fact, he has only purchased the locomotive. Please contact me if you think you need more clarifiation before you order.
If you've already ordered: a Hawthorne Village product, and you have a question about payments or shipments, please find a copy of your order or invoice and go to the Bradford Exchange Contact Page or call the Bradford Exchange customer service phone number: 1-866-907-3607. In Canada, call 1-866-285-0932. (This used to be called "Collectibles Today," in case you wondered.)
Thanks, Paul
---